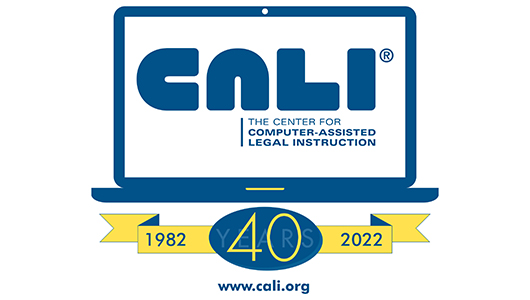 The Center for Computer-Assisted Legal Instruction (CALI) is a 501(c)(3) non-profit consortium of law schools, law libraries, and related organizations. Almost every United States law school is a member of CALI and they make up the bulk of our membership.  In keeping with our Mission Statement, CALI conducts applied research and development in the area of computer-mediated legal education and creates tools that increase access to justice. 
Specifically, CALI hosts and facilitates the creation of CALI Lessons, a library of over 1,200 interactive legal tutorials written by law professors and geared towards law students. In 2012, we began publishing open and free casebooks with our eLangdell® Press publishing wing.  Additionally, CALI has partnered with Chicago-Kent College of Law's Center for Access to Justice & Technology to create A2J Author®, a tool designed to create guided interviews that help Self-Represented Litigants to navigate the legal landscape.  CALI also provides a number of tools and services for its members such as InstaPoll, Classcaster® and the CALI Excellence for the Future Awards® and hosts the annual Conference for Law School Computing®.
---
Who we are in a nutshell!
250,000
casebook downloads 
350,000
CALI Awards issued